Comet C/2007 F1 Loneos - 16 October 2007
There is a new comet on the west. Unfortunately it is too low over horizont and so photo result is poor.

I was taking photos of this comet with my friend M. Minarik yesterday. Unfortunately my mount decided to do not work so I was taking no photos.
I tried it again. I used circular polarizer with my lens. Brightness of sky was lower a little bit. When I came back to home I saw how this filter decreased quality and the second attempt is wrong. It does not matter, perhaps tomorrow...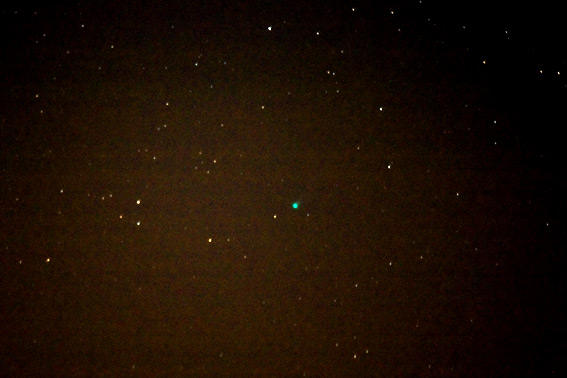 Technical information:
Optics:
Canon 70-200 F4 L USM + Cokin P164
Focal:
200mm
Aperature:
4
Exposure:
7x120s
Date and time:
16 October 2007 17:38 UTC
Location:
Central Europe, Slovakia, Cadca, village U Buty
Atmosphere:
clear sky
Pointation:
manual
Mount:
Astro-3 + EQ-2M motor drive system
Software:
Registax + Photoshop
ISO/ASA:
1600
Camera:
Canon 350D
And the same in black and white inverted version.