Planetary nebula M27 (Dumbbell) - 31 August 2008
Almost accurately after three years I tried again to take picture of this great planetary nebula. The result is amazing.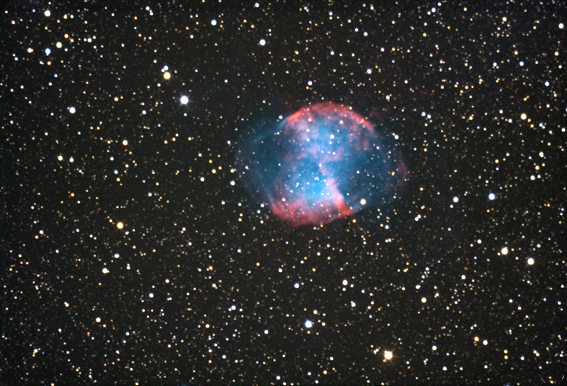 Technical information:
Optics:
Newton 610/3000 + coma corector MPCC
Focal:
3000mm
Aperature:
5
Exposure:
23x5min
Date and time:
31 August 2008 from 20:00 UTC
Location:
Central Europe, Slovakia, Oravska Lesna
Atmosphere:
clear sky
Pointation:
TV Guider
Software:
Registar + Subraw + Photoshop
ISO/ASA:
800
Camera:
modified Canon 350D
Contents:
The picture was created at private observatory of Mr. M. Murin.
and detail of planetary nebula